LUKE'S FEED MARKET UPDATES
LUKE'S FEED MARKET UPDATES
What is the Impact of African Swine Fever?
A cattle preconditioner's perspective.
Throughout the spring of 2019, there has been growing conversation amongst those in agriculture markets about the extent of the damage being caused the outbreak of African Swine Fever in China. China is currently the single largest producer, consumer, and amongst the largest importers of pork in the world.
"African swine fever is a highly contagious and deadly viral disease affecting both domestic and wild pigs of all ages. ASF is not a threat to human health and cannot be transmitted from pigs to humans. It is not a food safety issue.
ASF (African Swine Fever) is found in countries around the world, particularly in sub-Saharan Africa. More recently, it has spread through China, Mongolia, and Vietnam, as well as within parts of the European Union. It has never been found in the United States – and we want to keep it that way." – USDA
Concerns over biosecurity are so great, that recently the World Pork Expo, which is held in western Iowa, was canceled to reduce risk of spreading the disease, the first time in 18 years when foot and mouth disease was a major concern.
My Take
In no way is a major herd reducing event, unless it's a drought, bullish grains or plant protein. Very bearish to feed demand. It is a bullish meat protein, especially in forward positions. Exhibited by these two charts
Since about mid-March, money has been buying future meat protein. While I can only speak for feeder cattle, the cash market has not traded nearly as aggressively as futures. In the near term, we are seeing a heavy supply. The demand up to the African Swine Fever has been good but is losing ground to growing supply.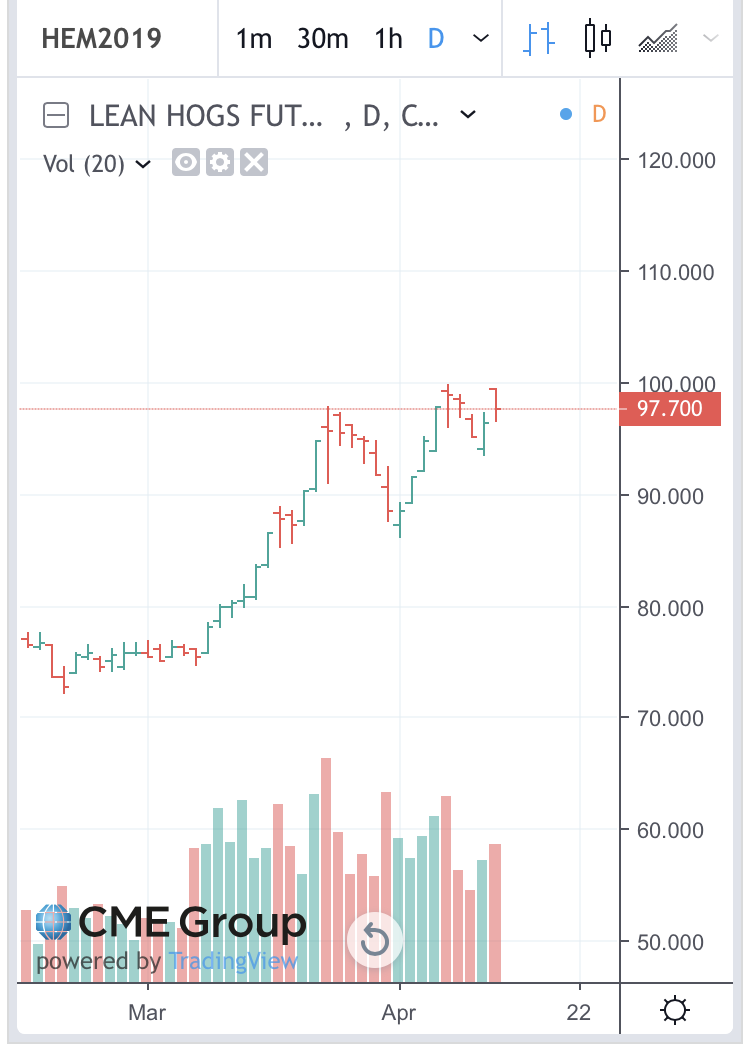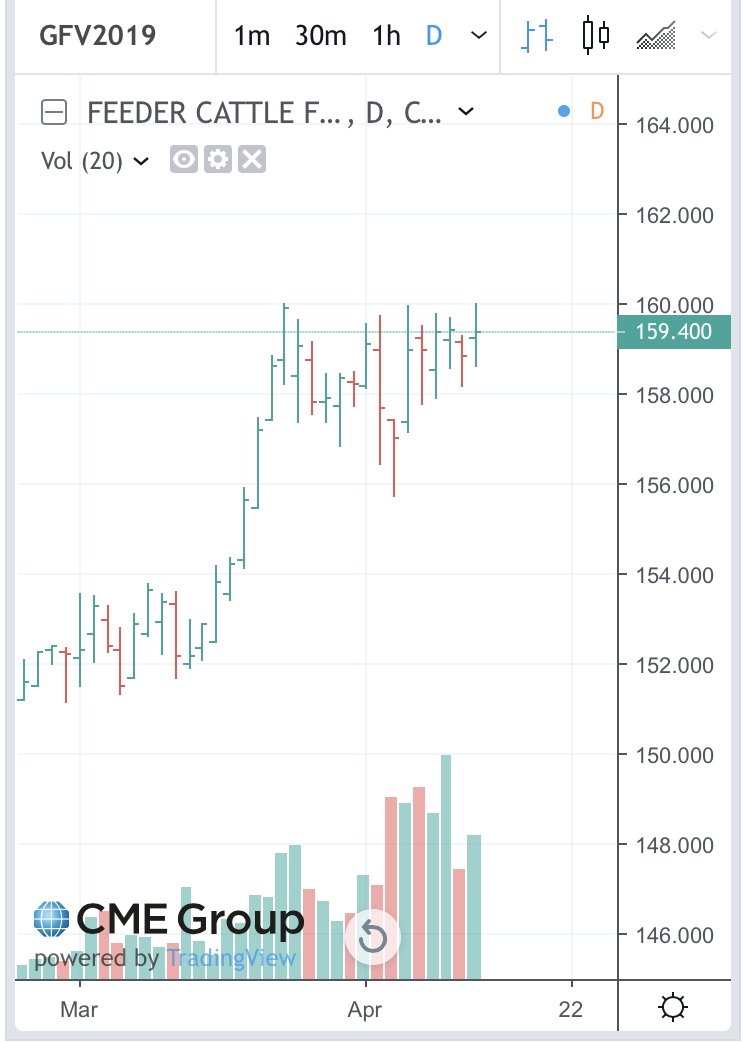 Really as of late, all meat sectors have been on a growth binge. The American cattle inventory has replenished itself following 2012 drought liquidation, broiler production setting records, dairy producers getting bled out, etc. We are seeing these macro issues affecting our markets.
On a local level, we still have many feeder cattle destocking wheat pastures, large feedlots at capacity, and most feedlots have not even begun the pen maintenance required after such a harsh winter. We still have guys in the north fighting winter storms as recently as a week ago.
From my perspective, it would seem investment money has driven futures prices to a point where for the last 4+ years you ought to be selling…. however, it has been a struggle to lay off risk in the cash market. This is causing the basis to be much weaker on feeder and fat cattle as producers try to keep inventory turning.
We need to see follow-through cash cattle trade to support current futures levels, otherwise, I fear we are in for a futures market correction as we move into growing fed cattle supplies later this spring and into early summer.